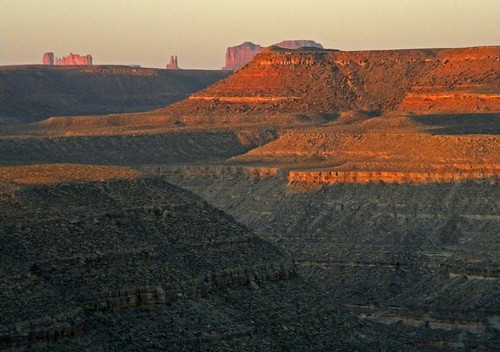 I don't usually take photos of horizons unless they happen to be of sunsets on the ocean.
Al is keen on them however, so here are two of his horizon shots taken at sunrise while camping at Goosenecks State Park in Utah, followed by two of mine where the horizon just managed to squeak into the top half inch of the photo.

To properly capture Goosenecks State Park you need either a really wide angle lens or some way of getting your camera up in the air to take a aerial view. The San Juan River snakes in major 'gooseneck' bends at the park. I found this aerial shot on Wikipedia, but I'm not really sure where we were camping…
September 27.
From this amazing campsite at Goosenecks State Park in Utah we spent the morning driving through the Valley of the Gods and then Monument Valley before spending the night in Page, Arizona.
For more photos of horizons see: http://dailypost.wordpress.com/2013/10/25/weekly-photo-challenge-horizon/