The High Puna of Argentina leads up into the Andes with roads that twist and turn forever upwards, and later forever downwards.
The altitude here is 4,170 m (13,681 ft). We are in the Altos del Morado (Purple Heights) on Ruta 52 to Jujuy (pronounced HooHooey).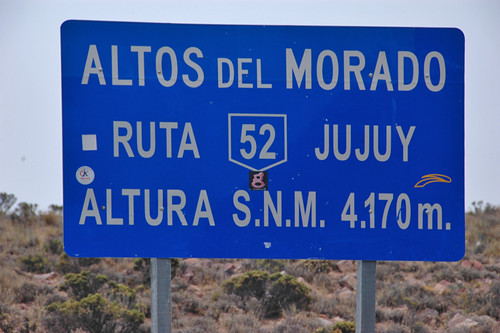 That is a full-size bus on one of these narrow twisting roads. It can get really cold up at this altitude so the bus stops had wood stoves in them so people could keep warm while waiting.

As the colder air of the high Andes hit the warmer air of the lower level a fog enveloped the highway…

…turning into a rain that blocked our view, and the bus driver's too. We were all hoping that he knew these roads really well.
 One last road shot!

For more on this photo challenge :
http://ceenphotography.com/2014/08/26/cees-fun-foto-challenge-roads/