Although it's highly unlikely that I'll be up for sunrise at home, when I'm travelling it happens a lot!
The Queen of the North ferry departs from Prince Rupert at 6 o'clock in the morning, a little too early for some passengers including me. If I had thought about it I would have bundled up in a sleeping bag too.
But then I would have missed the long summer sunrise.

Getting up early for the sunrise was highly recommended on our Halong Bay cruise. Some of the passengers were even up for the morning Tai Chi lesson! (Vietnam)
One thing about camping is that you usually get up with the sun – this spectacular sunrise at the free campsites at Goosenecks Canyon in Utah.
Our guide kept apologizing for the fog, saying "you can usually see a long, long way". Instead we saw this Bali temple in the fog at sunrise and weren't all that disappointed with the view.
It is recommended to see the sunrise at the Taj Mahal in Agra, India. We went into the mosque rather than to the area crammed with other early risers…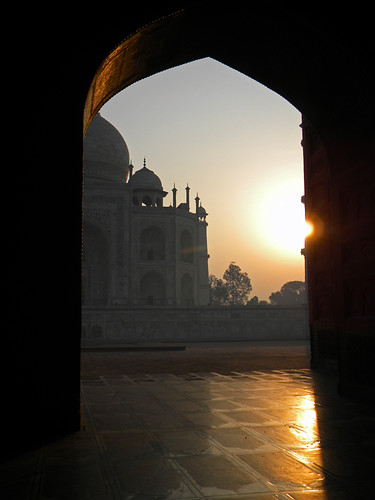 Angkor Wat had a surprising amount of early birds up for the sunrise. (Cambodia)

Nancy Merrill's Photo a Week Challenge: Sunrise