A few years ago a company came up with an algorithm that found the most photographed sights in the world. When I checked out Vancouver it turned out that all of the places I would have guessed WEREN'T on the list, and the Lion's Gate Bridge and the totems in Stanley Park WERE – two things I had NEVER taken a photo of!
Shortly after this I was going through my parent's old albums and discovered this photo of my dad being an imp and climbing up on one of the lions on the Bridge.
Obviously I needed to remedy my lack of Vancouver Hotspot Shots so I headed off on a (rare) sunny day in January and got these shots. I'm actually surprised it was one of the most photographed sights – getting there involved a scenic but loooong walk – I supposed in most cases it is included on a bus tour of Stanley Park.

My friend suggested I mimic my dad's pose and climb up onto the lion. However I didn't inherit a single drop of my dad's athletic ability, and getting me up there would have been an impossible task. My friend thought it might be possible if she could figure out how to operate the crane that someone had left temptingly close to the lion.
Without the crane, this was the best I could do – not nearly as impressive as my dad!
This shot was taken from underneath the bridge looking up from the Sea Wall.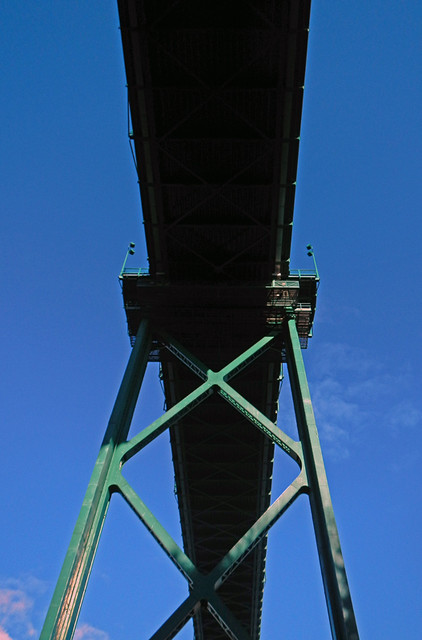 Another shot of the bridge – this one at night from across the water in West Vancouver. The shiny balloon installation at their Harmony Arts Festival framed the Lion's Gate Bridge and the blue moon shining on the water in the background.
I've just found the original site that listed the Hotshots, or rather the Hotspots, as it is called Shot Hot Spot at https://www.shothotspot.com. It's changed somewhat from its original format but is still interesting to browse through and discover new places to shoot.