In India of the late 1500s, Akbar the Great* commissioned three magnificent examples of Indo-Islamic architecture: the walled city of Fatehpur Sikri near Agra, his father Humayun's tomb in Delhi and finally this, his own tomb in Agra.
The exterior and interior walls of Akbar's tomb were intricately covered with designs that, according to Islamic tradition, only used geometric patterns, plant-life motifs and Arabic script.
The ceilings were often richly painted over every surface of their complex structure.
A few of places were left unadorned and showed off their beautiful bones.
A tomb within Akbar's Mausoleum in Agra, India.
Akbar's actual tomb is deep inside his Mausoleum, lit by a single lamp.
The gardens were quite beautiful with antelope wandering through the grounds.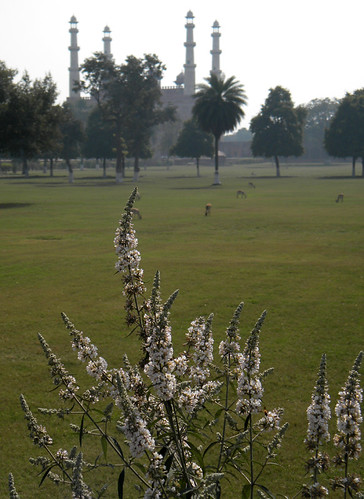 This was also where we captured many Indian women who were willing to pose for us.
Most of these masterpieces of Mughal architecture in Agra are UNESCO World Heritage sites:
*Note: Two names keep coming up when viewing architectural objects of beauty this area of India: Akbar and Shah Jahan, two of the greatest Mughal Emperors. They were Muslim kings from the Middle East who ruled over an area corresponding to modern-day northern India, Pakistan, Afghanistan and Bangladesh starting in the early 16th century and ending in 1857 when they were deposed by the British Raj.
The empire was founded by Babar, a descendant of Tamerlane (father) and Genghis Khan (mother). Babar's son won and lost territory, but his grandson Akbar the Great consolidated power. In turn Akbar's son was problematic but when his grandson, Shah Jahan, came into power he began to build so many monuments (including the masterpiece of architecture, the Taj Mahal) that he bankrupted the empire. After a few more power plays Shah Jahan's youngest son Aurangzeb, a devout Muslim, rose in the ranks and imprisoned his rather more tolerant father for incompetence and extravagance. This was the beginning of the end which arrived with the British in 1857.